World Cup 2022 schedule
The World Cup 2022 schedule takes place in the months of November and December, so in winter.
The opening match will be played on November 21 and the final on December 18, 2022.
Shortest schedule since 1978
The tournament in Qatar is the shortest World Cup in 44 years with only 28 days. The 1978 World Championship in Argentina lasted 25 days.
4 matches per day
The schedule consists of four matches per day. This gives the players enough rest, in the short and busy schedule.
Flexible schedule
The times and stadiums of the matches will only be filled in after the draw.
This allows the organization to organize the schedule so that all football fans of the playing countries can watch the match live.
Download the schedule
Download the World Cup 2022 schedule in PDF, Excel or JPG.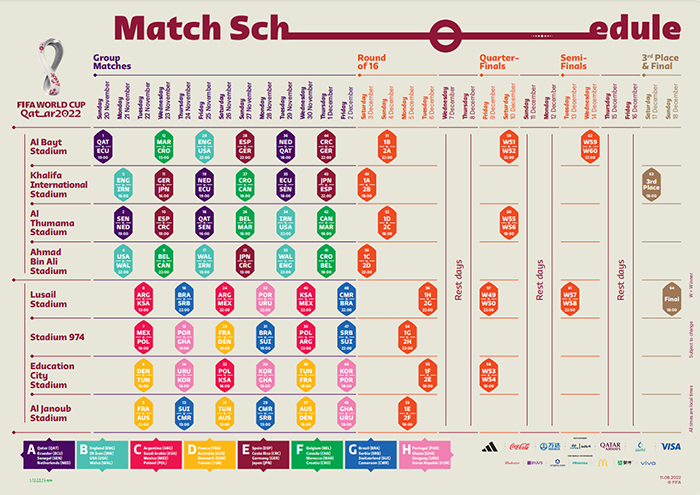 World Cup 2022 schedule frequently asked questions (FAQ)
When is the 2022 World Cup in Qatar?
When is the opening match of the 2022 World Cup?
When is the 2022 World Cup final?
---
Share 'World Cup schedule 2022 - Everything about the World Cup schedule 2022'
Share this message via social media with your family, friends and colleagues!
The World Cup schedule 2022 in November and December: all results, dates and times. When is the opening match and the final of the World Cup 2022?